Dane.Kouttron
What?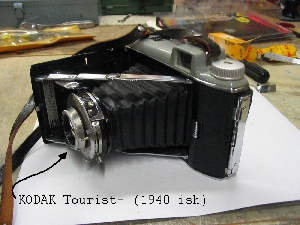 I got a hold of a Kodak Tourist, a film camera made in the 40's.
I wanted to use it to take some pictures; its an awesome camera that supposedly kicks out high-res shots. So after going to a camera store, i found out that the film it uses (620) hasnt been made for 30 years. Knockoff film is available, but its expensive (20$ for 1 roll of like 8-10 pictures, + the cost of developing = ridiculous)
I found a guide online for 're-spooling' 120 film onto 620 spools, although this looked like a quick alternative, i found out it was nearly impossible, as it involves moving things around in the dark, without touching the film. I attempted doing it in the daylight on exposed film, and i failed miserably.
Then i realized, the only reason it was necessary to 're-spool' was that the spools were slightly larger than 620's . Thanks evil corporations. The camera's are pretty much useless without the film, so if you break something, chances are no one was going to use it again anyway.
So i came up with this workaround, which can be done in day light. Now you can use 4$ 120 film instead of 20$ 620 knockoff film, using only some sandpaper, a knife, and some brute force.
Getting the goods

The images above is a roll of 120 Film, which goes for 4 bucks at a legitimate camera store. I used L&L camera, They rock
Compare and Contrast
| | | |
| --- | --- | --- |
| Here's the difference, 620 film is alot thicker and has an extra lip. The lip doesnt actually do anything though. | Here's a size comparison, for the folks whove never seen 120 film | Here's the thickness difference i mentioned |
Modification
Literally all this involves is grabbing a knife and cutting off the extra plastic on the top of the spool, and then sanding down the lid so its about 1/16 of an inch in thickness. if it fits snuggly inside the camera and can spin, then chances are it works.
Final Product (after being developed )
Images taken with b/w film, scanned in and inverted: (psst, developing is easy to do on your own, but thats another article) -
NOTE: the full size images are very large, check the zoomable / medium view if possible.
Thumb / Med res

Descriptor / crazy Hi-res

Thumb / Hi res

Descriptor

Whitestone Bridge, view from Queens Park

Parental Units
Visiting Milleridge Farm / Village in February
House in Long Island.
Heckshire Park, Long Island

RPI BIOTECH building Walkway

Female Soldering @ the RPI Electronics Club
The Mad Professor.
(aka me in welding goggles)
YiaYia Helen and Mom

Me and a Friend @ a Coffee house
Dane and YiaYia

SUPER AWESOME PICTURE OF BRIDGE PILLAR


Whitestone and the city
more bridge pics
ZWACK for President of the UNION 09
Senor Rubenstein Aka Tom
RPI Muller Center
One word eats bank accounts,
CHRIS, MOM and YIAYIA
Power lines, Troy NY
Notes:
1. l&l camera (
link
)
2. how to re-spool film (
link
)
Dane.Kouttron
Rensselaer Polytechnic Institute
Electrical & Electrical Power
631.978.1650