Dane.Kouttron
Jeep Pioneer External Audio Input Mod.
What?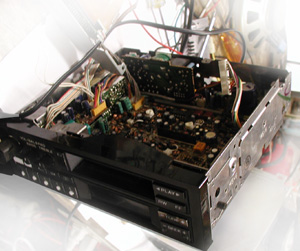 Adding an external audio input to an old jeep radio.
Why?
The tape deck broke-down 3 years ago (alvin and the chipmunks was its demise), and there was no other method of getting audio into the amplifier except using the FM transmitter. Unfortunatley, the fm transmitter (post modifications) could cause nearby cars to become distracted, if they're near the same frequency they would end up with what im listening to, and i didnt want to be the cause for any accidents. Ex: an eldery person listening to soothing jazz suddenly has Ramstein flowing through out their car.
How?
As modifications to this specific Jeep radio were hard to come by, and i only had ~ 3 hours to complete the project, i decided to jump right in. What i was looking for was 3 leads (l, R and center) that went from the tape deck to the preamp / rear amplifier. Then using something to trick the system into staying in tape mode, i should be able to use allready existing circuitry to act as a mux (switching on external audio when tape was selected)
Pre-project tip
Snag a backup radio (junkyard/ebay) before starting the project, in case something goes awry

1.

Wheres the pinout?


Thankfully, i didnt need to scour forums or translate crpytic manuals transcribed in sanscrit. The pinout is right on the unit! (as always, click the image for clarity)

2

.
What's What
The entire radio consists of 4 blocks, the actual tape deck devours 1/3 rd of this space, the amplifier brick is housed behind with a heatsink attached, and finally the fm controls and user io sit in their respective areas.

3

.
The Backplane
After removing the hardware shell, the backplane tells all about the routing of audio. As this was assembled circa 1987, SMT technology was implemented on board, but the board is only 2 sided, so reverse engineering is a lot easier. The audio traces i needed ran into what appeared to be an analog switch (probably to select from radio -> tape and vice versa) and then into the rear amplifier block
Dane.Kouttron
Rensselaer Polytechnic Institute
Electrical & Electrical Power
631.978.1650