Dane.Kouttron
Wireless RS232 -> USB Reciever Project.
What?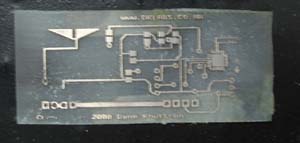 Wireless fm ook reciever over usb.
(2400 baud serial uni directional connection)
Why?
Need a usb capable fm revciever for cheap data aquisition.
How?
Ti makes a cheap usb to rs232controller ic. It has an internal resonantor so theres no need for a 12mhz oscillator, and aside from the super small ic size, it only requires a small amount of glue components to couple the rf datastream into the recieve line of the usb-> serial converter. For prototyping i etched a board.
Pre-project tip
Make the traces as large as possible so that the toner transfer paper has more surface to transfer.

1.

board layout

The board was designed in pcb artist (from 4pcb.com). i used a pdf printer , created a pdf and used photoshop to flip horizontally. after printing this out onto toner transfer paper it is ironed onto copper clad board.

attached is the board layout (PDF LINK)



2

.
Etching process
Using a ferric chloride tank, the board is etched untill the only parts remaining are the toner (black) on the fiberglass board. from the image, the board was 1/4 of the way through the etching process. a small portion of the copper was removed from the upper right side of the board.



3

.
In The tank
heres an image of the board in the ferric chloride tank. the bubbles are from a fish tank bubbler. airation and hot temperatures accelerate the stripping of the copper from the fiberglass board.




4.

Heres a shot of the board 3/4 of the way through the etching process. at this point a majority of the copper has been etched and the remaining parts are the toner protected copper lines.

5.

After etching and watching the board of extra ferric chloride, using scotchbrite the toner is removed and the copper traces remain. Now for prep, and adding components

6.

More to come as the components arrive
Dane.Kouttron
Rensselaer Polytechnic Institute
Electrical & Electrical Power
631.978.1650